Gabrielle Pietrangelo (vocals, guitar & harmonium) is a yoga teacher and practitioner, songwriter and musician, specializing in the voice and vocal harmony. Although she is a western trained musician, Gabrielle is a long time student of mantra and the power of the voice to open new spaces in the spiritual heart. She is grateful for the guidance she has received from her teachers and musical mentors along the way. She is the writer and director for Chaparral Kirtan Band and is working toward the debut release of this Bhakti inspired musical project, to be released in early 2019.
Bradford Trojan (vocals & guitar) is a musician and performer who has been in the musical world for over 20 years and involved with rock groups, avant garde theatre, yoga and healing music. Bradford's recent solo album, First Sunrise, features members of Dr. Dog. He is also a craniosacral therapist and Somatic Experiencing Practitioner in Tucson.
Kasey Ackerley
(vocals & harmonium) is a yogi, university student, and bhakti practitioner. His daily spiritual practice is chanting the Hanuman Chalisa and traditional Hindu mantras. Kasey is a lover of all sacred music, an avid Global Chant musician in Tucson, and a student of the Hindu traditions taught by Swami Sivananda and Neem Karoli Baba.
Matt Moon Nelson
(tabla, percussion & kartals) has studied and taught a variety of indigenous musical traditions since 1993, and is the host of Global Rhythm Radio on KXCI-FM in Tucson. He studied tabla (hand drums of North India) under the late Pandit Sharda Sahai of the Benares gharana and has a deep appreciation for kirtan. Matt regularly provides rhythmic accompaniment to world flute virtuoso, Gary Stroutsos.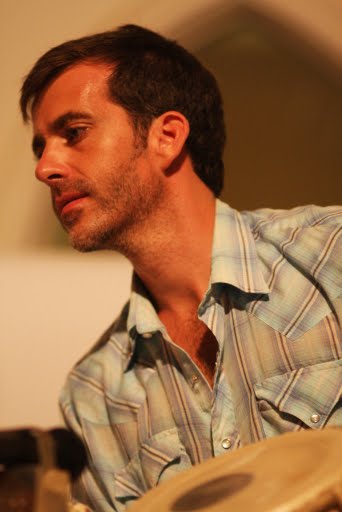 Will Duncan
(tabla & percussion) is a multi-instrumental percussionist and student of both Pandit Swapan Chaudhari and Parashu Ram Panda-ji of the Luknow and Benares gharanas of North Indian Classical music. Will's joy and any skill he has in playing is the direct result of the patience of his teachers and for this he is forever grateful. Will dedicates much of his time to the agrarian community centered around Skull Valley Lavender Farm.